"I feel that one of my unique skills as a female plastic surgeon is my ability to relate to my patients. It is important that I understand each individual's goals and desires to offer each patient a customized approach to meeting those goals. I will take as much time as each of my patients need to educate them on all aspects of the surgical options."
Dr. Prince is a native of central Arkansas. She attended the University of Arkansas at Little Rock on a full academic scholarship and graduated cum laude with a Bachelor's degree in Biology. She obtained her medical degree at the University of Arkansas for Medical Sciences College of Medicine in 2006. During her final year in medical school, she was elected to the Alpha Omega Alpha Medical Honor Society, which is comprised of the top 10% of medical students in the United States. She was also awarded with 3 separate scholarships based on academic excellence.
Dr. Prince then continued to specialize her training by completing an integrated plastic surgery residency at the University of South Florida in Tampa, FL. Here she spent six years gaining extensive specialized experience in cosmetic surgery, reconstructive surgery, breast surgery, upper and lower extremity surgery, craniofacial surgery, microvascular surgery, burn surgery, and cutaneous surgery. She spent a significant amount of time at several highly acclaimed institutions, including the Moffitt Cancer Center and Tampa General Hospital.
Dr. Prince is board certified by the American Board of Plastic Surgery. She focuses on providing patients with the safest most up-to-date surgical techniques. She is committed to using her artistic abilities to help her patients obtain a natural-looking improvement in their appearance. Among the procedures she performs are breast augmentation, body contouring, and facial aesthetics. She also performs less invasive procedures such as BOTOX for facial animation lines as well as facial filler to improve facial contour.
Dr. Prince understands how quickly medical technology advances and is dedicated to staying up-to-date on all cutting edge surgical and aesthetic techniques through her own personal research. She is the co-author of numerous publications, including several in the prestigious Journal of Plastic and Reconstructive Surgery, the journal published by the American Society of Plastic Surgeons. She is a dedicated member of the Little Rock medical community, with active staff positions at Baptist Health Medical Center, St. Vincent Health System, and Arkansas Surgical Hospital.
Dr. Prince's practice focuses on cosmetic procedures of the breast and body that include breast augmentation, breast lift, tummy tuck, liposuction, as well as a number of other breast and body contouring procedures. Being a female surgeon provides Dr. Prince a unique perspective in the art of plastic surgery. She believes she can truly relate to the goals and concerns of her patients and help them transform their bodies following pregnancy, weight-loss, aging, or general discomfort with their body. She prides herself on being able to help her patients feel better in their skin and truly understands the journey they are on.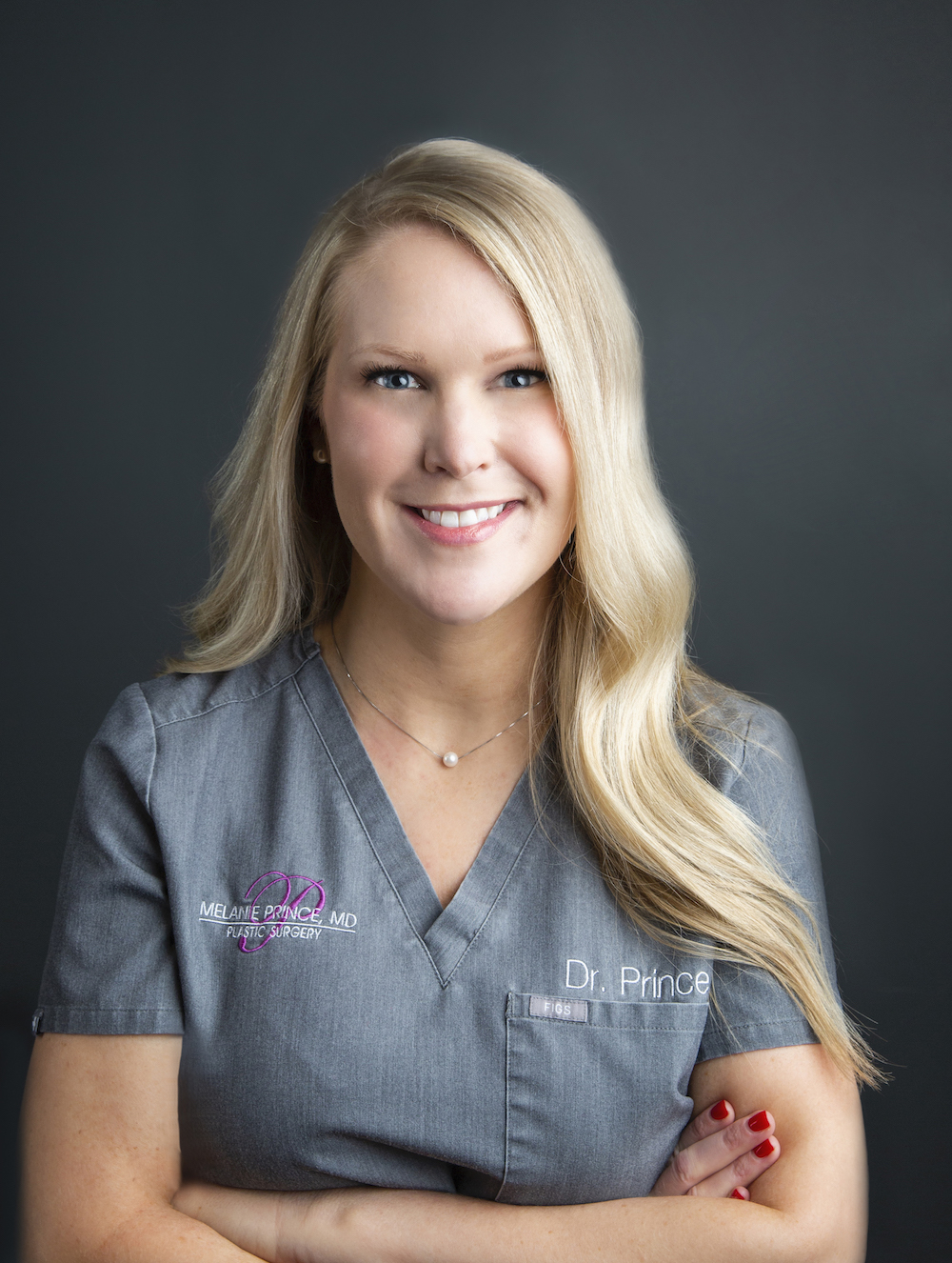 Dr. Prince takes particular interest in working with breast cancer patients, performing a wide variety of surgeries. She understands the importance of restoring a woman's self-image after undergoing breast cancer treatments. Dr. Prince participates annually in BRA Day USA to help close the loop on breast cancer treatment by educating women of their reconstructive options.
In her free time, Dr. Prince enjoys traveling and spending time with her husband, Jared, and son, Duke.


Dr Melanie Prince was my breast surgeon following breast cancer. I especially appreciated a female perspective regarding my breasts after the surgery for breast cancer. I'm extremely pleased with my results and recommend Dr Prince and her staff to assist anyone facing this most difficult time of life.

Dixie
Dr. Melanie Prince has either authored or reviewed and approved this content.